Who we are
The PAPRB was originally organized in 1948 as the Philippines Association of Board Examiners, Inc. (PABE) then charged with the task of coordinating and harmonizing the objectives of the various professional boards. When the Professional Regulation Commission (PRC) was established in 1973 under Presidential Decree 223. PABE was renamed PAPRB which remained steadfast in its commitment to fully support the PRC in its quest for professional excellence, quality service and social responsibility.
Vision
A respected and independent association that is a dynamic enabling partner of the Professional Regulation Commission (PRC), committed to ensure that Filipino professionals are competent, globally recognized, and capable of meeting national and global challenges.
Mission
Support the Professional Regulation Commission (PRC) in developing, sustaining and engaging high-performing professional regulatory boards with the passion to enliven the core values of PRC and PAPRB.
Core Values
P - rofessionalism and integrity

A - ccountability

P - roactiveness

R - esponsibility

B - enevolence
The 9th Philippine Professional Summit
Commemorative Logo: Rationale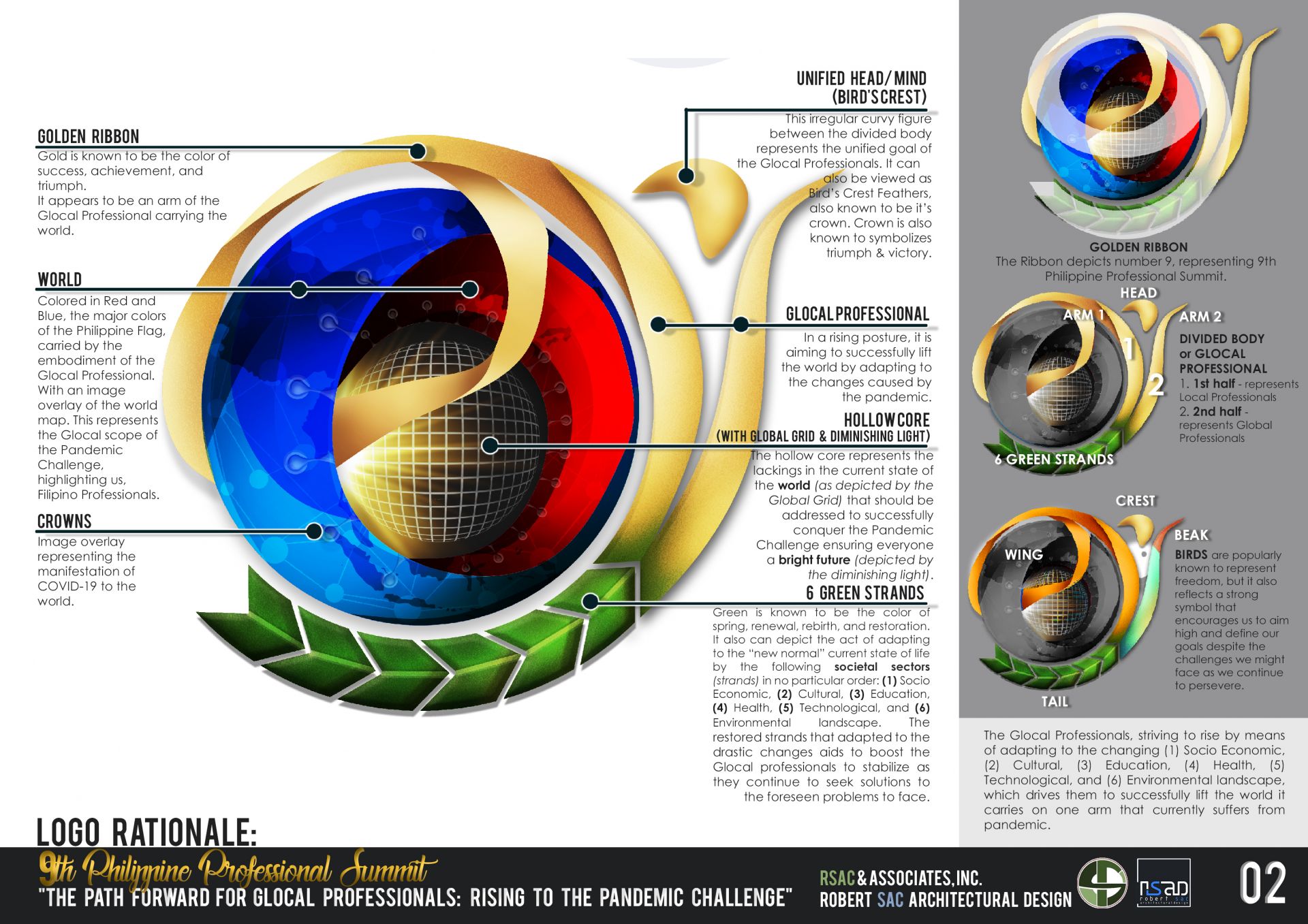 Background
Theme: The Path Forward for Glocal Professionals: Rising to the Pandemic Challenge

When the global pandemic struck and the countries' COVID-19 response became an unprecedented historic unison of community quarantine and lockdowns for months, companies and businesses were forced to close, downsize, declare bankruptcy, and for those that survived, shift to remote work. The historic health crisis necessarily and legislatively mandated everyone at all levels of society into hand hygiene, healthcare face mask protection, and social distancing. All these presented solutions and at the same time, problems, not just for employees but company owners and entrepreneurs as well, who may not be prepared for a sudden shift in norms, ordinances, supply chain movements, and those who did not have the right and sufficient tools nor the technologies, risked everything and everyone.
"Globalization" is true even in the negative sense that coronavirus can wreck world-wide havoc, and thus GLOCAL Professionals must face the challenges – a necessary "Localization"? All of a sudden, we see the rise of a myriad ways this pandemic is disrupting industries – "Work From Home" or Remote Work, more Digital Learning for Basic and Higher Education where access and marginalization inevitably raises issues; more e-commerce and online selling where taxation issues become an afterthought; contactless meetings, payments, banking and what not. How much of the "New Normal" ought to be practiced with the "Old Normal", or should professionals debunk the latter? What is the key competitive advantage of professionals in a consumption-driven economy? How much digitalization, data security, data privacy and reliance on technology must enterprises have to adopt and adapt in order to cope with the changing multi-dimensional landscape?
Summit objectives
Provide a platform of exchange and collaboration that will develop the professionals' collective response to the pandemic challenge.

Explore the paradigm shift of Glocal Professionals' perspectives on their life experiences and continuing quest for excellence in their profession.

Discover how innovations in different forms can be used to improve human lives through the promotion of culture of research, health, leadership, partnerships and collaborations.
Summit outcomes
Creation of a platform for the promotion of a community of professionals that can effectively respond collectively and creatively to the challenges of the COVID-19 pandemic.

Change of mindset of glocal professionals that will enable them to adopt and adapt to the new landscape of human life.

Enhanced professional innovative research skills and network linkages in the socio-economic, cultural, education, health, environmental, technological transformation.

Collective action plan for change formulated by the glocal professionals and PPS9 Resolution.
Created with